The highest pump distribution and highest system pressure is decided by the integral flow control and relief valve in the outlet cover on the V200 pumps. Also, the orifice in the cover determines the flow rate. When you have a piloted typed relief valve, it will turn to get rid of excess fluid to the tank. It will ration the system pressure to a certain total.
The diagrams also show the shape in which the complete pump distributes thru the orifice. This usually happens at low drive speeds. The bigger spring chamber is linked to the pressure port thru the orifice. The pressure in the chamber balances the pressure at the opposite end of the relief valve spool and the lighter springs makes sure the spool is closed. The spool land makes sure the pump delivery is obstructed from the tank port.
When the pump distributes more flow rate by the orifice plug, it builds up pressure that makes the spool open next to the light spring. Then the overflow of fluid is made to go past the spool to the tank port. Also, if the system pressure expands up to the relief valve the pilot poppet will unseat itself. Fluid goes into the bigger spring chamber out to the spool and onto the tank. It will make the flow to put off a pressure differential on the spool, causing a turn into the light spring. Making the pump distribution to go into the tank.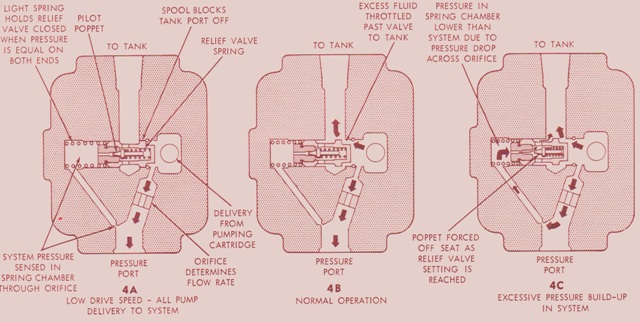 662-871-8403
tupelohydraulics@gmail.com